Oh that is just music to my ears.
I have been a bit sick.

I actually got rest and took care of myself on my 5 day Scrappin Weekend. S.A.V.E. was just awesome and I really thought I would come home all refreshed and ready to go, but somewhere along the way of being with close to 140 woman I got sick! But I can feel the end is near, and hopefully the use of tissues. Do have to put them on the shopping list for tomorrow!

Kate and Josh are doing ok. As Kate says...."no time to be sick!" So she got her round of antibiotics and they seemed to have done the trick. Can't wait to open the windows again...that has to be the worst part of the winter!

In Wrestling news...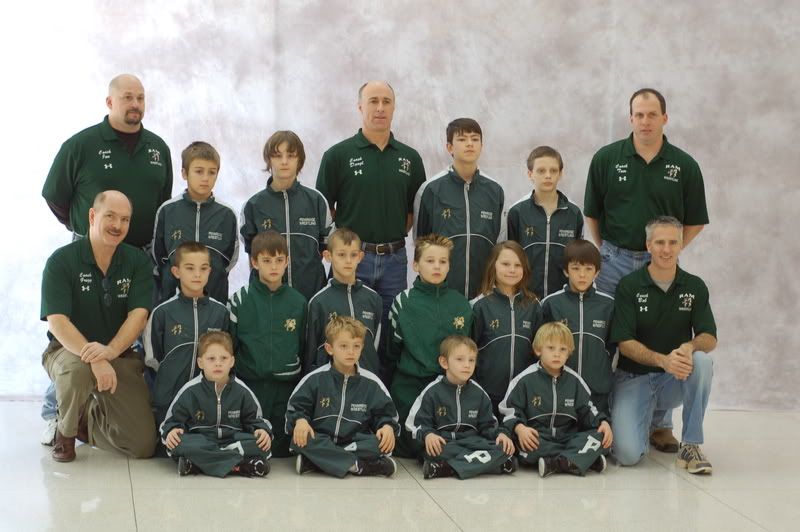 Josh is 8-1 on the year with one more match next week. He should be seeded up in the top 4 for his weight bracket for the East Penn League tournament. It is pretty excited since in his first year last year he was ranked last. He has worked very hard this year and is really starting to mentally get more and more each week. They work so hard on learning all year, it is really exciting to see them put the moves together in a match and see their excitement when it actually works. We are so proud of him and are looking forward to a great tournament season!

So today I am working on the Coach's scrapbooks for Football. We have our banquet next tuesday and I have them about 1/2 done. It should go pretty quickly now that I have the intital patterns done. Hope to post some of the pictures soon.
Also gearing up for Chantilly in a couple weeks. I can't wait to go and have some fun with the girls. Also so excited to be taking a class with Stacy Julian. I am not sure if she is ready for all 11 of us in class...but I can guarantee it will be a hoot!
Also loving all the new things coming out at CHA(Craft & Hobby Assoc) This is the semi annual show where us retailers buy the new things for the year. I have already ordered many things and am not too upset to not be actually going to the show this year. The vendors are all making it so easy to order without going to the show that it is great to be saving the $1000.00 or so dollars it would cost to go and spend it on new inventory instead. More great things to get for the Corner Store. Tim Holtz is also doing some great little videos over at his blog, showing how to use his product...and it is a great idea! I have had a rush of orders for his new Design ruler, fragments and his scissors this week! You go Tim!
So I am loving life, it is so great to be home running my business, enjoying my friends, and cherishing my family. We have just finished up putting the final touches on our Alaska vacation in June and now just have to plan which excursions we want to do. My friend Deena has been giving me great websites to visit and look at all the things we can do. It is so exciting! 12 days of an unforgettable trip.
Josh is turning 8 in just a few more days.....