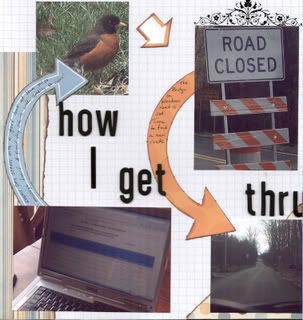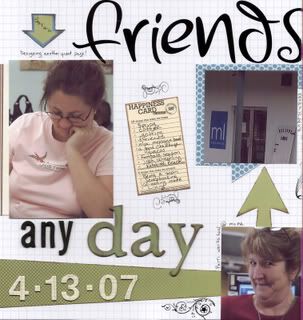 As I was making this layout last night, I thought "wow this page is busy". I have been doing pages with less pictures and liking it. I love the one picture layout, it just gives you more room for expression. Then while doing this page I thought about another reason I like the one page layouts, it is for a moment a way to slow down and just look at one thing, focus.
So how busy is your day? Do you make list? Are you getting older and a little scattered?
Answers: YES, YES and YES!
There are days that if I don't stay up from 6 am - midnight....I don't get a whole lot done. Or at least I feel like I didn't get done everything I should have. A typical weekday is...
Up about 6 am , sometimes 7 am
Get Josh off to school which is feed him, make sure he is dressed, teeth brushed, homework in the back pack and off on the bus by 8 am.
Then it is check the message board, do the checking, check emails and possibly order from a company on line. Check out blogs and generally check on things in the scrapbooking world. You have to stay on top of things when you own a store. You can not be on top if you sit around and wait for things to happen.
Then it is off to memory lane, pa! Love this place and it is a dream come true to be able to go there. Al tho it is a great place to get to go everyday, I am fully aware that it would not be possible if it wasn't for my wonderful life partner Kate. (hi honey) . Then it is back to get Josh off the bus, then homework. Check out more on the Internet and then dinner.
Now during sports season the rest of the nights sometimes are practice. Right now we have a breather, and we are enjoying a bit more family time playing games and cuddling.
Then it is off to bed for Josh and I am usually in my scrap studio or Kate and I try and have some conversation about the day. ( too rarely we get to do that anymore). Have to work on that.
Kate and I have made every decision together, and one of the biggest was when we decided to have a child. We knew we did not want to have a child unless one of us was home with him , and always available for him. We gave up a lot , we even accrued some debt by me quiting my job and raising Josh. But it is something I will never regret. I know it is good not to have debt, I know money is very important. But guess what, so is being a Mom, so is that time that you can never get back. You don't get another chance to see all that goes on in those first 5 years. I will not have anymore children. I knew that. I have a great gift....a miracle...Josh. I cherish every moment with him.
He now is in school all day so I am at the store when he is. I am home for him when he gets off the bus...that is the only way I will have it. Now don't get me wrong, I do sacrifice time that I don't want to. There are sometimes that frustrate me, I have to be at the store. Some Saturdays in the past year that I would have rather been cuddling on the couch watching cartoons, but duty calls at the store. Choices have to be made. I am grateful I have Kate, she is such a great Mom and so understanding. I love it when they get to spend quality time together too. It is a well balanced machine here....we learn as we go and love does conquer all.
So where am I going...well to the store in about 10 mins.....but here writing my thoughts...
I guess I have been thinking about the busyness of our life's. It is all good, but you have to make the right choices. Make sure every once in a while it isn't so busy, take the time to be with your family....and don't wait for that or keep saying there is time for that later. As we have been reminded this week again, time is not in our hands. Precious things can be taken from us in a matter of minutes, totally out of our control. My heart is so sadden by the events at VT.
I have to say it has been nice scrapbooking again, I am always a better person when I get to creatively express myself. I am very committed to getting back to the things that make me happy. I don't like struggling with that, being unhappy I have no time for myself. I am going to be 45 years old this year, and with age comes wisdom....not that I am wise by no means. But I have gained wisdom. I see things clearly, and I am much better at knowing what I want and expressing it. So if you made a list today, when you mark something off....give yourself a little TA DA!! Shout it out if you can :)