Ok
and in about 45
mins
I could ask how is it Thursday!
I know I know time does not stand still. But do you ever feel like you are?
After a Month of working almost everyday, it was nice to spend a weekend with the family. Just the 3 of us.
It was
CKC
, then
S.A.V.E.
, then
mlpa's
Anniversary Weekend, there was two people I was missing
alot
. So Sunday we headed out to one of our great family spots. The PA
Ren
Faire
! It has brought us great memories for many years. We missed not going last year, due to life being a bit too busy. So this year we were going to grab a day and go before it was another year pass and we were wishing we could have gone. It was Pirate weekend, and we had so much fun!! I just love the ERA you step into once in the gate. The volunteers and actors make you feel like you are right back there. I love how they talk to the kids and how they are just all there having a GREAT FUN TIME!
Josh got into the spirit of things and he was in full pirate mode. I was so happy the
Daly's
joined us again this year, it is always fun to spend the day with them.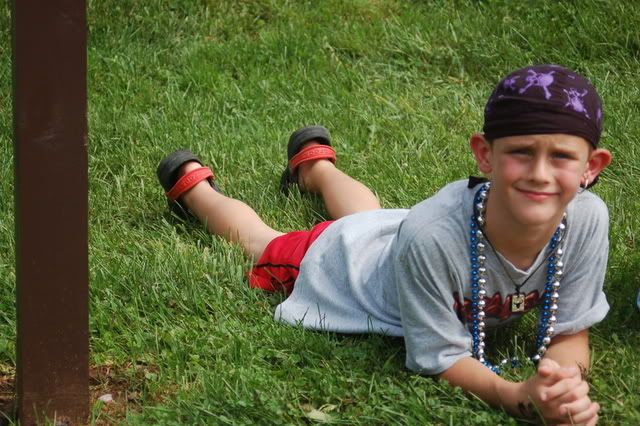 I loved how Josh played the part here,
altho
he cracked up in the next second after the picture.
I have been finding a time to scrapbook, or is that making time to scrapbook. We have been getting
alot
of great papers into the store and it is just too hard not to have some fun with it. I did a few layouts about the Game on Saturday while it was so fresh in my mind.
So it is almost Thursday, busy week. only a few more days till Josh is in school again. I just can't believe he is going into 2nd grade, he will be 8 years old in a short 5 months, and I know how fast that can go!
We are having opening weekend in Football, (last week was preseason) So we will be heading out on Sunday to the game. I hope all goes well for the team, and they play hard and have fun. I will be sure to blog about it.
Well time to get this tired body to bed. I leave a clean scrap table, which was not that way after last nights scrappin. Hopefully do some scrapping tomorrow night, the rest of the weekend will be too busy.