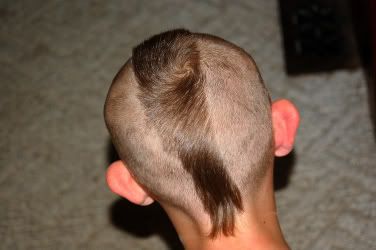 Ok if anyone is counting ...this is hair cut # 3 of the summer. First it was just a crew cut , then it was ...I want a tail . Then oh yes the famous mohawk. Then it was , I want my mohawk to show more. So this is what happens when Kate and Josh are alone together on a Friday night . Let me tell you of my shock when I got home after a night with the girls at mlpa . I was like WHOA! What happened here tonight . Actually woke Kate up and asked her.
Of course all I could think of was ...hmmm 10 days till that first day of school and Josh will have this mohawk as he walks in to make that first impression on his new teacher !
Then I just slapped myself.
Here I was thinking about others judging my son because of looks.
Bad , bad mom.
I have always hated stereotyping anyone for their looks.
So after I had this little silent struggle in my own head , I of course took pictures the next morning , started thinking about the layout I was going to do about the "Styles of Summer 2006" and how I was going to design the layout. I just love scrapbooking !
I actually love that he feels he doesn't have to keep his hair the same all the time. He has learned that he can change his mind and make it what he wants. I love that part of Josh . He goes with the flo of life, ever changing. He is his own peep!
So here is to being who you want to be ! Cheers to you my little guy .