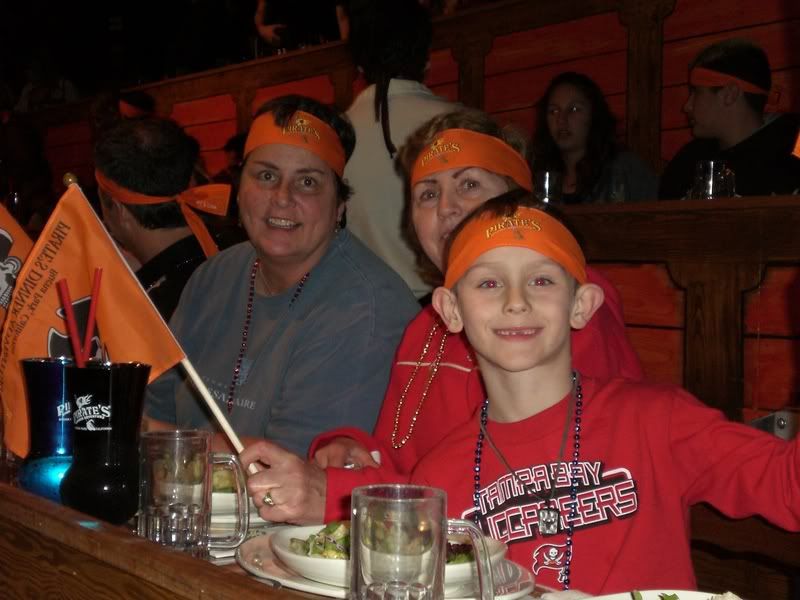 Ok so how fun is cheesy fun!! I have to tell you it is the most fun you can have!!!
Last night we got to California and I had already planned this night of pirate fun! We have done the medieval times where they joust and have a whole night of fun. So this time I had found another way to have fun. There is nothing much better then being entertained while eating.
So off we go to the Pirates Adventure Dinner. We were greeted by this 7 foot pirate, not kidding and I will have to scan the picture we got taken with him. He was a 20 year old college student ( yes of course I asked) He was so friggin tall. So then we stepped into the years of pirates and princesses. It was like being on the set of Pirates of the Caribbean. It was very cool. We had snacks, shrimp, meatballs , pasta salad, cheese and of course drinks. Kate had this beer called Flat Tire. She enjoyed it. I just liked the bottle!
Then we were entertained with a little show

Then we met our Pirate...while not a great shot this guy was cut!! My mom's little heart went pitter patter. She was quite excited! ( weird to see your mom get excited about a young man) but it was funny too. She said BONUS!
So we ate, we drank, we were entertained.
It was a little sad , I think this is the last of the cheesy nights out. (Well except for Kate wanting to go again!) Josh of course couldn't take his eyes off all the action , but I not sure it was his ideal night. Hard to tell sometimes, but made me a little sad when we got there and he said, " it's not real pirates, it is just fake" . I fear some of the thrill of fantasy is leaving my little boy. I know you only get so long with Santa, and all the other things. It is amazing how sadden you can get when you realize those years are ending way too fast.
But there is always Kate, who had smiles on her face bigger then I have seen in a while. She is such a kid at heart and loves this kind of stuff. I love that it doesn't take much to make her happy and that a little bit of a fake Pirate battle can make her smile. I love her for that!
So on to the convention today to look , see and buy some new products. Can't wait!!
Peace,
Rollie