The Real winners, will be the amazing kids like Simon that this money will go to help. But below are the wonderful pieces of ART from some amazing ladies. These pieces were all donated by each lady. All I did was ask them to make something to auction off for Autism Awareness. I didn't give them any rules , the sky was the limit ...and as you see they took it to the moon! Again thanks so much ladies, without you this wouldn't have been as great as it was.
Cookie Tin Calendar , Artist Lisa Fitzell
Tote bag handmade by Julie Boardman , Won by Ali Valentine !( yes my Ali squared Picture)
Calendar and card organizer made by Colleen Fennessy , won by me :) (sorry Leslie)
Altered Window and Frame, Artist Mary Snyder, won by me! ( it was made for my room!)
Donna Downey's d! , Artist Donna Downey, winner Deb Dimino ( seeing a "D" theme here!!)
Very cool Stuff hanger, Artist Sarah Larson, winner Amber Johnson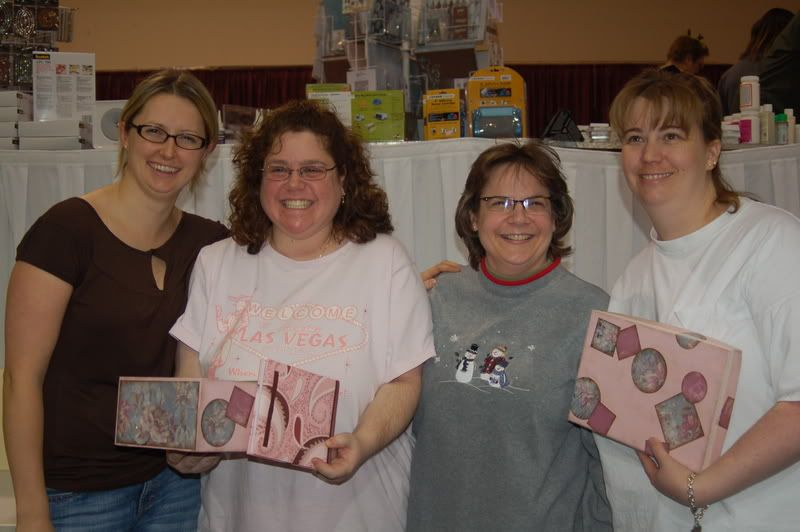 100 Cards w/box and Address book , Artist Deena M. and Trish D. , winner Lisa Howard
Ali squared again !!! It diserved a second look!
Transperancy Tag book , Artist Sarah Larson, Winner Kim "Mcgaw" Tacconi
Decorated distress kit, Artist Marlene Shaw, Winner Trish Daly
Journal, and Journal Jar, Artist Renee Lecastas, Winner Trish Daly (hope the mac & cheese is good)
Autism puzzle piece , Artist Christina Ketterer, Winner Chris Epstien (Happy Birthday Chris)