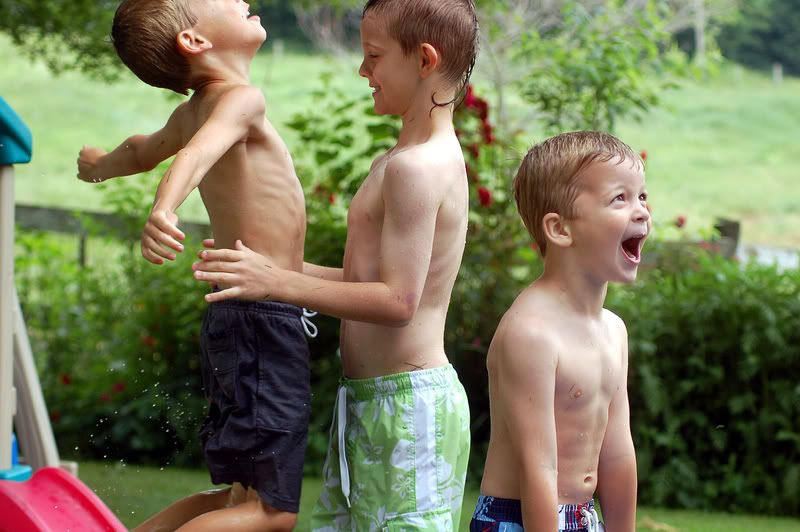 What a whirl wind weekend.
First we had Kristina
Contes
in to teach some classes.
Lots of fun and the kind of girl you can get messy with!
We had a great time at
Sanner's
Farm on Sunday! These 3 boys are showing it. The High Five belly smack and K is just expressing his joy with VOLUME! It was nice to relax, enjoy and observe. I am usually behind a counter helping people in the store, I am ordering, following up and making it run day in day out, and this is where I get to see most of these people when they come to shop or crop. So there usually isn't
alot
of time to socialize as much as we would like.
This was a great day to do that, I didn't have to wait on anyone, get anything for anyone and I could just relax. Rare for me most days.
Altho
I have made it a point to get to know people better, not just as customers. I have been really developing relationships that have started at
mlpa
. It is nice to know that these relationships will last well beyond any four walls.
I have been thinking about what makes a friendship last, what is it that people that have been friends 10, 20 years have. It is work, but it is also honesty and communication. I have seen over the past few months how important communication is and how some people really don't do it.
I also have been looking at relationships I have and have had, I question myself sometimes what keeps some of them going, I also wonder sometimes if I think more of the relationship then the other people do. Do I think there is more there then there really is. All questions that you have to answer yourself, and hope that you have the right answers or you could be very hurt.
on another note....
18 MORE DAYS!!!
wAHOOOOOOOOOOOOOOOOOOOOO
!!!
I can not wait to be on the beach, in the beach house, at Lazy Suzy's eating blue crab DAILY!
Well it is time to get going and get to the store....lots of goodies coming in.
Have a wonderful day....I know there are only 3 1/2 days left of school here, and then I have a 2
nd
grader!