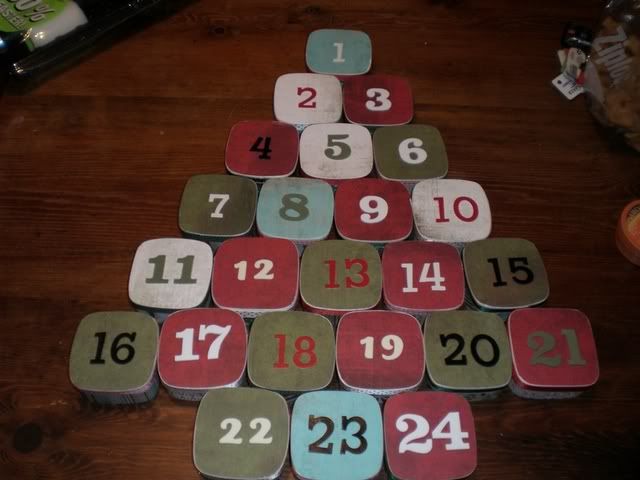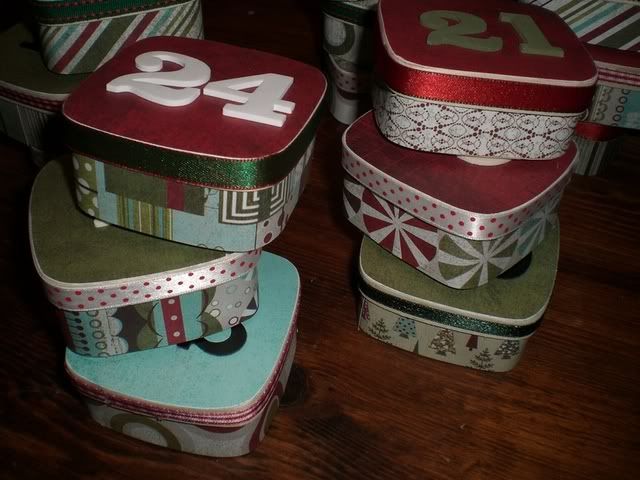 Made these little advent boxes this weekend. Josh is very excited to open them each day. We are doing different things, some charity, some presents, some special events. I love his excitement.
Today we are going to see Santa. Josh is ready to go see the big guy and let him know what he would like him to bring. I am so happy I get to go and get the picture. I love having that picture every year. It brings the magic back to me
everytime
.
Had a FANTASTIC weekend with girlfriends!!! We scrapped the weekend away from Friday to Sunday. Laughed,
cryed
from laughing, ate way more then I should have, and got so much done in the way of
christmas
gifts. I am making 90% of my gifts so I needed a really great weekend to work on them.
The dining room is on the agenda today. I just have the shoe molding and the one step trim to go. Then it is off to IKEA on Wednesday to pick up the dining room table and chairs. Then it is Decorating full force!!! I can't believe I have less then two weeks before our Holiday Open house and over 50 people coming. I can't wait....this is just my favorite party of the year to have friends come and have holiday cheer with us!
Got the living room done last night, the curtains are back up and except for removing the carpet and doing the flooring this room is done. We hopefully will do that after the holidays.
Need to go and look for a fixed lens for my Nikon too. I was reading on Karen's blog about the pictures she takes of her son wrestling, and in order to get the settings I need a new lens. I can't wait to try this out.
Hope everyone is getting excited about the holidays.....it is truly a wonderful time of year to take time to be thankful for all the wonderful things in your life, and let those around you know how much you love them.